Deep Tissue Laser Therapy at Spring Lake Chiropractic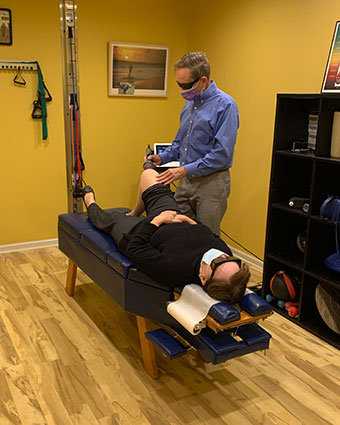 What is Deep Tissue Laser Therapy?
Deep tissue laser therapy (DTLT) is a scientifically proven way to reduce pain and inflammation. Treatments are fast, safe and painless. Most patients experience results after only a few treatments. DTLT allows deeper tissue penetration, resulting in efficient and consistent results.
DTLT streams light energy into your tissues. The damaged cells are energized, and circulation is improved in painful areas. The applicator is applied directly to the skin, and patients may feel a gentle, soothing form of heat, stimulating therapeutic recovery responses in your body.
Eventually, inflammation is reduced, leading to the elimination of pain. The treatment process is brief, but the therapeutic healing and soothing effects will continue long after you have left the office.
NEW PATIENTS »

Can It Help Me?
Some benefits our patients have seen with DTLT include
Speeds up the healing process after surgery or any other traumatic injury. A typical procedure takes between five and ten minutes, depending on the scope and severity of the condition.
Reduces pain and enhances functional mobility without drugs, and their potential side effects.
Increases oxygenation and removes toxins from the body. The application of laser light improves the flow of blood to traumatized cells and tissues.
Works to relieve joint pain and chronic mobility problems like arthritis and backache. These issues are often challenging to resolve using conventional solutions.
No discomfort during therapy, unlike a typical surgical procedure. All you'll feel is a deep and gentle warmth as your body's cells react to the laser beams. Most patients find the experience enjoyable.
Deep tissue laser therapy has no known side effects. The lasers have adjustable power ranges, enabling our chiropractors to customize treatments for each patient's comfort.
Produces long-lasting results, which can be felt long after you leave the office.
Questions? We'd Love to Speak With You
Not sure whether Deep Tissue Laser Therapy is right for you? Reach out to our friendly staff, they can answer all your questions and concerns. Contact us today.
---
Deep Tissue Laser Therapy Spring Lake Heights NJ | (732) 449-8330