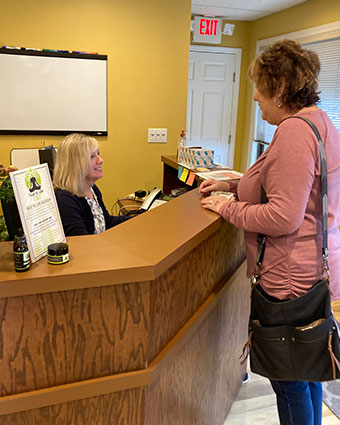 New Patients at Spring Lake Chiropractic
If possible, you can complete the online forms prior to your first visit. This helps us respect your time and ours, keeping wait times to a minimum. If unable to do so, please arrive 15 minutes before your appointment.
This paperwork gives us your health history and information on your condition for our doctor to review. We also ask that you bring your ID and insurance information for verification. Onboarding will be completed during this visit.
When you enter the office, our staff will welcome you like a member of the family. During your consultation, the doctor discusses your problems, concerns, goals and objectives, to determine how chiropractic can meet your needs. Getting to know more about you, your lifestyle, and other factors that might affect your health is key to creating a care plan that works.
Next, the doctor does an in-depth physical examination. He also runs standard neurological, orthopedic, and postural tests. If necessary, X-rays will be referred out, providing the highest quality films and review by a qualified radiologist. All procedures are explained in detail before anything is done.
After reviewing test results and films, Dr. Jeff gives you a detailed report of all findings and answers questions including:
What is my condition?
Can I be helped?
How long will it take?
What will my treatment cost?
He discusses your potential care plan and makes recommendations. In some cases, your condition may require referral to other providers. We'll ensure you receive the best corrective program for you. If you decide to proceed with care, you'll receive your first adjustment today. Please allow 30-40 minutes for this visit.
We're in-network with all major insurance providers, including Medicare. Major credit cards and HSA plans accepted; flexible financing options are available. Please speak with our friendly and knowledgeable staff with any questions or concerns.
Questions? We're Here to Help
Contact our office with any questions or to book your visit. We'd love to speak with you; call us at (732) 449-8330.
CONTACT US »
---
New Patients at Spring Lake Chiropractic | (732) 449-8330